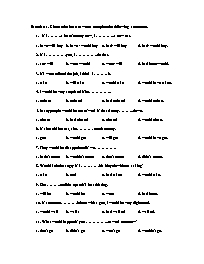 Exercise 1. Choose the best answer to complete the following sentences.
1. If I .a lot of money now, I .a new car.
a. have /will buy b. have / would buy c. had/ will buy d. had/ would buy.
2. If I you, I .do that.
a. am/ will b. were /would c. were/ will d. had been/ would.
3. if I were offered the job, I think I . it.
a. take b. will take c. would take d. would have taken.
4. I would be very surprised if he .
a. refuses b. refused c. had refused d. would refuse.
5. Many people would be out of work if that factory .down.
a. closes b. had closed c. closed d. would close.
6. If she sold her car, she much money.
a. gets b. would get c. will get d. would have got.
7. They would be disappointed if we .
a. hadn't come b. wouldn't come c. don't come d. didn't come.
Bạn đang xem tài liệu "Bài tập về câu điều kiện", để tải tài liệu gốc về máy bạn click vào nút DOWNLOAD ở trên
 Exercise 1. Choose the best answer to complete the following sentences.
If I .a lot of money now, I ..a new car.
a. have /will buy	b. have / would buy	c. had/ will buy	d. had/ would buy.
2. If I you, I .do that.
a. am/ will	b. were /would	c. were/ will	d. had been/ would.
3. if I were offered the job, I think I . it.
a. take	b. will take	c. would take	d. would have taken.
4. I would be very surprised if he..
a. refuses	b. refused	c. had refused	d. would refuse.
5. Many people would be out of work if that factory..down.
a. closes	b. had closed	c. closed	d. would close.
6. If she sold her car, she  much money.
a. gets	b. would get	c. will get	d. would have got.
7. They would be disappointed if we.
a. hadn't come	b. wouldn't come	c. don't come	d. didn't come.
8. Would John be angry if I . his bicycle without asking?
a. take	b. took	c. had taken	d. would take.
9. She .terrible upset if I lost this ring.
a. will be 	b. would be	c. were	d. had been.
10. If someonein here with a gun, I would be very frightened.
a. would walk	b. walks	c. had walked	d. walked.
11. What would happen if you ..to work tomorrow?
a. don't go	b. didn't go	c. won't go	d. wouldn't go.
12. We 'll get wet if we .out.
a. go	b. did go	c. went	d. had gone.
13. If I go shopping, I some food.
a. buy	b. will buy	c. would buy	d. would have bought.
14. If I find it, I you.
a. will tell	b. would tell	c. had told	d. told.
15. What would you do if youa million dollars?
a. would win	b. win	c. had won	d. won.
16. They 'd be hurt if I .
a. don't go	b. didn't go	c. hadn't gone	d. wouldn't go.
17. If we took the 6: 30 train, wetoo early.
a. would have arrived	b. arrived	c. will arrived	d. would arrive.
18. If I had known you were in hospital, I to see you.
a. will go	b. would go	c. went	d. would have gone.
19. If I ., I would have said hello.
a. had seen	b. see	c. saw	d. would see.
20. I..out if I hadn't been so tired.
a. will go	b. went	c. would have gone	d. would go.
21. If I ..a camera, I would have taken some pictures.
a. have 	b. had	c. would have	d. had had.
22. You won't pass the examinationyou study more.
a. as long as	b. unless	c. if 	d. whether.
23. If only I you wanted to invest money in business.
a. had known	b. knew	c. have known	d. know.
24. If I were to leave my country , I disappointed.
a. probably be 	b. would have been c. will be	d. would be.
25. If he hadn't wasted too much time, he.in his examination.
a. would fail	b. wouldn't fail	c. wouldn't have failed.	d. won't fail.
26. If I had taken that English course, I ..much progress.
a. had made	b. would have made	c. made	d. would make.
27. If I were in your place, I .a trip to England.
a. will make	b. had made	c. made.	d. would make.
28. If I .. you , I'd save some of your lottery winning.
a. be	b. were	c. am	d. was
29. If the car .. larger, we would have bought it.
a. had been	b. have been	c. has been	d. been
30. If I had enough money, I  abroad to improve my English.
a. will go	b. should go	c. would go	d. should have go to
Exercise 2: Identify the one that has a mistake by circling the corresponding letter a, b, c, d.
1. If we will reduce the speed of population growth, there will be less pressure on the earth.
 A b c d
2. Unless we leave a bowl of water under the sun, it will evaporate.
 A b c d
3. If we continue to use fuels at the current rate, we would soon have to face a fuel crisis.
 A b c d
4. If I am 10 centimeters taller, I would play basketball.
 A b c d
5. If the doctors could find in the remedy, a lot of people would be saved.
 A b c d
6. If she bought that house now, she ran out of money.
 A b c d
7. What you would do if you could speak French well?
 A b c d
8. If I had known he is not at home, I wouldn't have gone all the way to his house.
 A b c d
9. If I had known that the road were flooded, I would never have taken that way.
 A b c d
10. If I were you, I will go to the dentist's and have the tooth checked.
 a b c d
Exercise 3: Rewrite those sentences with words given:
Let me give you my advice. You should cut down on smoking right now.
If I .	
Leave me alone or I'll call the police.
Unless.	
If you arrive at the office earlier than I do, please turn on the air-conditioner.
Should.	
The children don't go to school in the snowy weather.
If it .	
He died so young; otherwise, he would be a famous musician by now.
Had .	
You must tell me the whole truth or I won't help you.
Unless.	
The car breaks down so often because you don't take good care of it.
Were I.	
He is very bad-tempered, that's why his wife left him soon after marriage.
If he.	
Don't tell lies to your boss or you'll be fired at once.
If.	
She got married at such an early age: otherwise, she would be at university now.
Had .
1) He can't go out because he has to study for his exam.
=> If.
2) She is lazy so she can't pass the exam.
If.
3) He will pay me tonight; I will have enough money to buy a car.
=> If.
4) He smokes too much; that's why he can't get rid of his cough.
=> If.
5) She is very shy, so she doesn't enjoy the party.
=> If.
6) I will get a work permit. I will stay for another month.
=> If.
7) He doesn't take any exercises. He is so unhealthy
=> If.
We can't get the ticket because I don't have the right change.
=> If.
9) Study hard or you won't pass the exam.
=> If.
10) Don't be impatient or you will make mistakes.
If.
Back to top 
cucku 
#6 Posted : Saturday, September 13, 2008 3:15:54 AM 
Rank: Member of HONOR
Groups: English Teacher 
Joined: 5/13/2007
Posts: 5,815
Location: HCMcity
Thanks: 1654 times
Was thanked: 6252 time(s) in 2103 post(s)
Normal 0 false false false MicrosoftInternetExplorer4 
KHI NÀO DÙNG WILL/WOULD SAU IF ?
Will  đứng sau if :
Thông thường chúng ta không dùng thì tương lai đơn với will sau if. Tuy nhiên, mặc dú rất ít khi được dùng đến, người ta có thể dùng hình thức này khi muốn nhấn mạnh đến ý " không phải bây giờ mà là sau này" . Hãy so sánh:
If it suits you, I will change the date of our meeting.  nếu anh thấy thuận tiện thì tôi sẽ đổi ngày họp của chúng ta lại.
If it will suit you, I will change the date of our meeting.  nếu anh thấy thuận tiện ( không phải bây giờ mà là sau này )  thì tôi sẽ đổi ngày họp của chúng ta lại.
Will và would đứng sau if :
- Muốn nhấn mạnh đến sự bằng lòng và không bằng lòng:
+ Khi yêu cầu người khác làm việc gì/ đáp ứng đề nghị giúp đỡ.
Ví dụ 1 :
Shall I hold the door open for you ? anh có muốn tôi để cửa mở cho anh không?
Yes, if you will/would. vâng, xin anh vui lòng.
Ví dụ 2 :
If you will/would/could wait a moment, I will fetch the money. anh vui lòng chờ một chút, tôi sẽ đi lấy tiền.
+ Khi nói về người nào khác:
If he will/would/could only try harder, I am sure he'd do well    : nếu anh ta chỉ chĩu cố gằng hơn nữa, tôi chắc anh ta sẽ thành công.
+ Trong các hình thức lịch sự nhất trong các mạch văn trang trọng:
Ví dụ 1 :
I'd be grateful if you will/would let me know soon.: tôi sẽ lấy làm biết ơn nếu ông vui lòng cho tôi biết sớm.
Ví dụ 2 :
If you will/would follow me, I will show you the way.  nếu anh chịu đi theo tôi thì tôi sẽ chỉ đường cho anh.
+ Trong những câu nói trực tiếp chỉ sự bằng lòng/ không bằng lòng.
Ví dụ 1:
If you will/would agree to pay us compensation, We will/would agree not to take the matter any further  : nếu anh chịu bồi thường cho chúng tôi thì chúng tôi bằng lòng không đá động gì đến vấn đề đó nữa. 
Ví dụ 2:
If you won't stop smoking, you can only expect to have a bad cough : nếu anh không chịu ngưng hút thuốc thì anh thì anh sẽ bị ho dữ lắm đấy.
( Theo Longman)