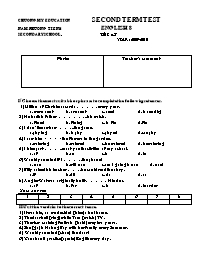 I/ Choose the most suitable or phrase to complete the following setences.
 1/ Million of Christmas cards every year.
 a. were sent b. are sent c. send d. is sending
 2/ He had his father .his watch.
 a. fixed b. fixing c. to fix d.fix
 3/ I dont know how .the game.
 a.playing b. to play c.played d.can play
 4/ I saw him the flowers in the garden.
 a.watering b.watered c.be watered d. be watering
 5/ I take part .most youth activities of my school.
 a. of b.on c.to d. in
 6/ Would you mind if I .the phone?
 a. use b.will use c.am I going to use d. used
 7/ Billy asked his teacher .he could read the story.
 a.if b.did c. do d. as
 8/ Angkor Wat was originally built Hindus.
 a. of b. for c. to d. in order
Bạn đang xem tài liệu "Second term test English 8 time: 45 year: 2009 - 2010", để tải tài liệu gốc về máy bạn click vào nút DOWNLOAD ở trên
CHUONG MY EDUCATION SECOND TERM TEST 
NAM PHUONG TIEN B ENGLISH 8
SECONDARY SCHOOL.	 TIME :45'	 
 YEAR : 2009-2010
 Marks 
 Teacher's comment
I/ Choose the most suitable or phrase to complete the following setences.
 1/ Million of Christmas cardsevery year.
	a. were sent	b. are sent 	c. send	d. is sending
 2/ He had his father ..his watch.
	a. fixed	b. fixing	c. to fix	d.fix
 3/ I don't know how ..the game.
	a.playing	b. to play	c.played	d.can play
 4/ I saw him the flowers in the garden.
	a.watering	b.watered	c.be watered	d. be watering
 5/ I take part.most youth activities of my school.
	a. of	b.on	c.to	d. in
 6/ Would you mind if I.the phone?
	a. use	b.will use	c.am I going to use	d. used
 7/ Billy asked his teacher.he could read the story.
	a.if 	b.did	c. do	d. as
 8/ Angkor Wat was originally builtHindus.
	a. of	b. for	c. to	d. in order 
 Your answer:
 1
 2
 3
 4
 5
 6
 7
 8
 II/Put the verds in to the correct tense.
 1/ It was late, so we decided (take) a taxi home. 
 2/ The doorbell (ring) while Tom (watch) TV.
 3/ The rice- cooking festivals (hold)every two years.
 4/ She (go) to Halong Bay with her family every Summer.
 5/ Would you mind (close) the door? 
 6/ You should practice(speak)English every day.
 7/ Nga told Nhi how (go) there.
 III/ Rewrite these sentences using the suggested words. 
 1/ " I can fix the faucets"-he said.
 -->He said..
 2/ "Do you know My Son, Nga?"
-->I asked Nga
 3/ It is a contest in which participants have to cook rice.
 -->It is a .
 4/ Ba invited Liz to the rice cooking festivals.
 -->Liz.
 IV/ Fill in the blank with one suitable preposition.
 1/ My mother is very keen ...growing roses.
 2/ John is extremely fond .music.
 3/ Santa clause is based .the descrition of Sant Nicholas.
 4/ How many people participated....the rice- cooking contest.
 V/ Read the following passage and answer T/ F.
 Machu Picchu is an ancient city in Peru. The construction of the city started in 1450.The city covers about 13 square kilometers. For centuries, the city was buried in the jungle and was not discovred until 1911.
 Today, Machu Picchu is one of the most tourist attractions in all parts of South America
 Questions: Answer T or F?	
 1/ Machu Picchu is a modern city in Peru.
 2/ People began to build the city in 1450.
 3/ The city was built on the area of thirty square kilometes.
 4/ People found the city burried in the jungle in 1911.
 5/ The city is attractive to many tourists from South America. 
 Your answer:
1
2
3
4
5
THE END
BIểu điểm và đáp án môn tiếng anh Lớp 8
đề kiểm tra chất lượng học kỳ ii
Năm học 2009-2010
Question 1: (2.0.điểm). Mỗi câu đúng cho 0,25 điểm.
	1. D 3. C 5. A 7. C
	2. A 4. B 6. D 8. D
Question 2: (1.0 điểm).
	1. A 2. A 3. A 4. B
Question 3: (2.0 điểm). Mỗi động từ chia đúng cho 0,25 điểm.
went- were watching
is watching
- Have you connected
- have knew- was
	4. goes
	5. to meet
Question 4: (2.0 điểm). Mỗi chỗ đúng cho 0,5 điểm.
cloudy- windy.
invetions.
beautiful.
Question 5:(1.0 điểm). Mỗi câu đúng cho 0,25 điểm
	1. B 2. D 3. C 4. A
Question 6:(2.0 điểm). Mỗi câu đúng cho 0,5 điểm.
	1. T	2. F	3. F	4. T
	Đề kiểm tra CHấT LƯợNG HọC Kỳ II
Name: (Năm học 2009- 2010)
Class:	 MÔN TIÊNG ANH Lớp 8
 Thời gian làm bài:45 phút
Question 1. Choose the best answer(2.0p)
	1/ Have youany news about Lan since her bike accident?
	A. hear	B. hearing	C. to hear	D.heard
	2/ Used paper is collected and to factories.
	A. sent	B. sending	C. send	D. to send
	3/ People learned how.paper many centuries ago.
	A. was made	B. is making	C. to make	D.making
	4/ Last night I.television when the phone rang.
	A. watched	B. was watching	C. have watched	D. was watched
	5/ Tom has ..had lunch,so he isn't very hungry.
	A.already	B. yet	C.still	D.since
	6/ Would you mind if I.the window?
	A. close	B. to close	C.closing	D.closed
	7/ They showed me where.tickets.
	A. get	B. got	C.to get	D. getting
	8/ Both French and English in Canada.
	A. is spoke	B.are spoke	C. is spoken	D.are spoken
Your answer:
 1 
 2
 3
 4
 5
 6
 7
 8
Question 2.Choose the word that has the underline past pronouced differently from the rest(1.0 p).	
	A. who	B.when	C. where	D.which
	A. included	B.called	C. carved	D. arrived
	A.brochure	B.teacher	C.beach	D.much
	A.fisherman	B.ticket	C.prisoner	D.over
Question 3.Put the verbs in the bracket into the correct tense or form(2.0 p)
 1/ The light (go)out when we (have) our dinner.
 2/ My father (watch) Joo Mong film at the moment.
 3/ A: you (ever connect) a printer?
 B: I(know) how to connect it since I (be)twelve.
 4/ She always (go) to school by bikes.
 5/ I'd like you (meet) my mother.
 Your answer: 1/./..
2/	 
 3//../.
 4/.
 5/..
Question 4. Complete the following sentences using the correct tense or form of the words in brackets(2.0 p)
 1// It is (cloud) and (wind)... It is going to rain.
 2/ Television is one of the most (invent) of the 20th century.
 3/ The flowers you sent me were (beauty) 
Question 5.Match aline in A with aline in B(1.0 p).
 A
 B
 1/ The Le family was sleeping
 2/While Lan was eating,
 3/ when Nam won the race,
 4/ It was raining
a/ when the plane got to Hanoi.
b/ when the mailman came.
c/ the crowd was cheering.
d/ the phone rang.
 Your answer: 
 1./ 2../ 3./ 4..
Question 6.Read the passage and anwer True (T) or False(F)?
 The Great Wall of China is the longest man- made structure ever built. Much of what exists of the wall today was built during the Ming dynasty in the late 1400s, although parts of the wall are much older and go back to around 200 B.C. The wall is about 11 meters high. The main part of the wall stretches for about 3,400 kilometers.
 Decide these senteces True(T) or Fale(F) 
 1
The Great Wall of China was constructed by man.
 2
The wall was built during the Ming dynasty in 1400.
 3
Many parts of the wall were built around 200B.C. 
 4
The main part of the wall is about 3,400 kilometers.
THE END

Tài liệu đính kèm:
de tieng anh 8 hkII.doc